5 Online Casino Games with The Highest Payouts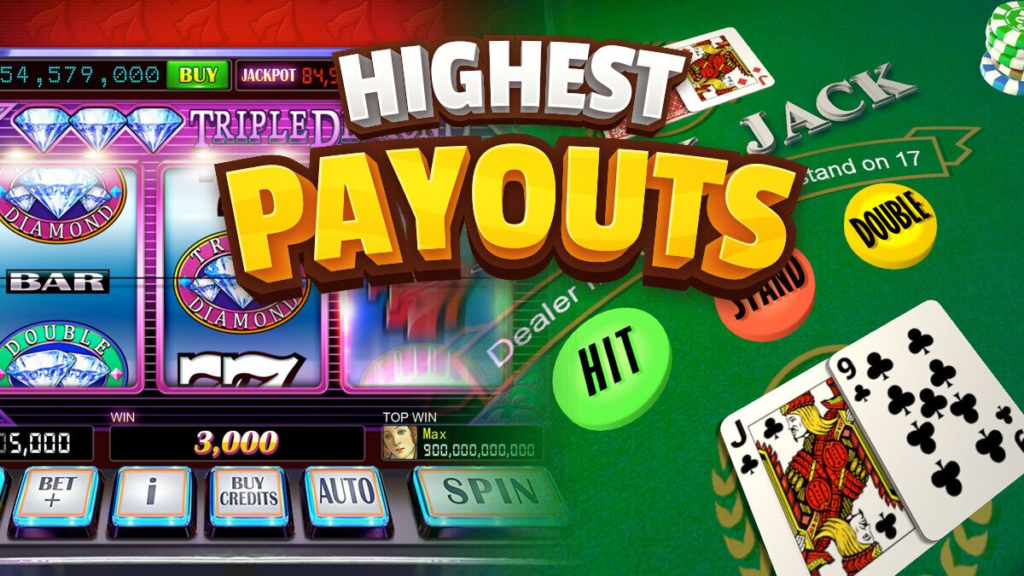 Every online casino game has a return to player (RTP) percentage. It's the theoretical return average players will likely win. For example, if an online casino game has an RTP of 98%, bettors will likely receive a $9.80 return on average for every $10 they bet.
Most online casino games are entirely or partly games of luck, so the results are totally random. Although some players may win or lose, opting for high RTP games will naturally improve their chances of earning higher yields.
To enjoy high payouts, here are five online casino games with the best RTP:
Blackjack
Blackjack is one of the staple games in land-based and online casino games. It's widely played due to its high RTP of up to 99.5% and a house edge of a maximum of 2%, usually for inexperienced players. Plus, it pays instantly!
Why does experience matter? Blackjack is partly a game of skills. The more Blackjack strategies you know, the higher your winning odds. In other words, players must bet with the correct strategy to enjoy the full RTP.
Besides background knowledge, note that the number of decks impacts Blackjack's RTP rate. Despite its varieties, its RTP stays more or less 99%. Unfortunately, for the same reason, it only counts 10-20% toward satisfying welcome bonuses' betting requirements.
Baccarat
Casino games at FanDuel Casino and table games at Las Vegas don't leave out baccarat, also called Punto Banco, as one of the go-to games with James Bond-style gambling fun. It has quite a few complexities, but it's one of the card games with the lowest house edge, ranging from 1.06% to 14.36%.
In this game, bettors have three options before the cards are dealt: a Banker bet, a Player bet, or a Tie. The Banker's hand is your best bet. It tends to play out its cards second or get to go last—an edge like in blackjack where bettors can bust before the dealer can play—making it a slightly better bet.
For successful Banker bets, bettors pay a 5% commission, taking the house edge to 1.06% and RTP up to 98.94%. In contrast, the RTP of a Player hand bet is slightly worse at 1.24% but with an RTP of 98.76%, while the Tie has a house edge of 14.36% and a mere 85.64% RTP.
Craps
Another casino game with high winning odds is Craps. This dice game has a maximum RTP of 99.17%. Plus, it has several low house-edge side bets. For example, the odds bet has exactly zero house edge.
To explain, note there are only initial bets in odds bets. They're typically expressed as a multiple of the original bets the bettors made. For example, if they take twice the odds on a $5-pass line bet ($10 + $5), the overall bet will be worth $15.
Additionally, if the bettors make bigger odd bets and leverage the zero-house edge, the overall casino advantage on these combined bets will be reduced. This is why Craps can almost reach 100% RTP.
Roulette
Roulette is entirely a game of chance, so its house edge can reach a maximum of 6%, depending on its variation. Specifically, European roulette can clock at 2.6%, while 5.25% (or higher) for American roulette.
Despite its high house edge, roulette's RTP is still high, up to 97%. It has nearly 50% up to 100% winning odds because the probability of winning is easier to tell than other casino games.
Roulette has two possible outcomes only: win or lose. What's more, identifying whether the bettors win or not can be measured and calculated. Simply divide the total number of winning scenarios by the total number of outcomes to get the winning odds. Multiply it by 100, so it'll be expressed in percentages. If the result is high, then the probability of winning is also high.
However, note that winning odds still depend on roulette variations played and the bets made. In general, as mentioned, American roulette has a higher house edge, so it has lower winning odds than other roulette variations.
Video Poker (House Edge: -0.76% to 5%)
Like blackjack, video poker is another skill-based casino game. Since players' decisions can greatly impact the game's results, it's one of the casino games with the lowest house edge, as low as -0.76%.
Video poker comes with a lot of variations as well. However, among all, the simpler ones have higher winning odds. One example of an easier video poker variation is Jack or Better, also called Draw Poker. Its full pay, in particular, has a house edge of only 0.5% and a 99.5% RTP.
Another simpler variation is Deuces Wild. It's a unique video poker with an RTP of 100.76%, making the house edge below zero or negative. However, as a game of skill, learning its strategies and mastering it is necessary to get a reasonably high advantage.
Final Thoughts
Play these high-payout casino games only at licensed, regulated online casinos. They routinely test their games and machines to ensure accurate results. More importantly, they treat players fairly and pay out on time when they win.