What are the Features of AirPlay?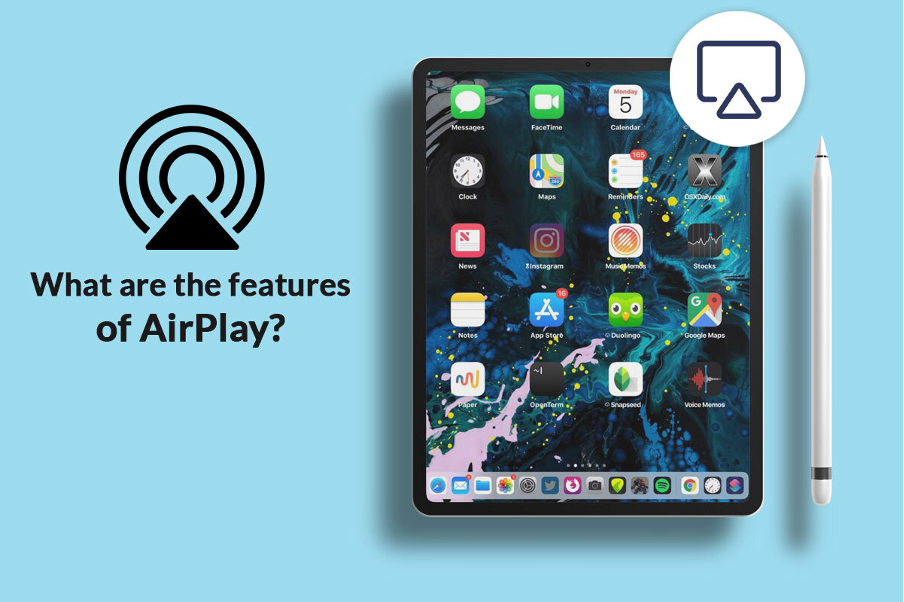 AirPlay is Apple's proprietary media-sharing feature that was released a decade ago. The feature continues to be the most efficient way of sharing media across Apple devices and other compatible devices. Here's what you must know about AirPlay features and other information required to use it.
How does Apple's Wireless Streaming Technology Work?
Apple users share media across Apple devices using AirPlay. Media is shared without a fuss as long as all the devices are connected to the same network. This means that devices must be connected to the same Wi-Fi network or connected to the same router using an ethernet cable and must be within Bluetooth range.
How to Use AirPlay?
Using AirPlay is as easy as A, B, C. All you have to do is find the AirPlay icon, and it is generally located in the application you are listening to or viewing the content. For instance, if you watch a movie in the Amazon Prime Video application on your iPhone, you will see a square with a solid triangle. This icon is the AirPlay button. If you cannot find this button, use the screen mirroring feature. You can go to the Control Center on your Apple device and click Screen Mirroring.
Once you are done, how to turn off AirPlay? Find the AirPlay icon in the media application and tap or click the icon to turn it off. If you are using the screen mirroring feature, you can turn it off by going to the Control Center.
AirPlay Features You Must Know
Users can use AirPlay to stream photos, music, and videos from their iPad, iPhone, or Mac to any compatible device, including AirPlay-enabled speakers or Apple TV.
Furthermore, it is possible to stream to multiple devices simultaneously. For instance, if you have AirPlay-enabled speakers in different rooms, you can stream music on all of them. The same music will be playing in different rooms of your home. This will provide you with a surround sound experience.
The playback of your AirPlay-enabled device can be controlled via your Mac, iPad, or iPhone. For example, if you are streaming videos or music, you can control the playback by skipping, pausing, or stopping it.
Screen mirroring capability
You can easily mirror your Apple tablet or phone screen to any compatible device via AirPlay. For example, if you want to see videos or photos on a bigger screen than your phone or tablet, you can screen mirror them on your Apple TV.
AirPlay is an excellent feature for gaming enthusiasts. Instead of investing in additional gear, you can stream games to your Apple TV via AirPlay. Hence, the games on your iPad or iPhone can be played on a much bigger screen, and this ensures an immersive experience.
WPA2 encryption is used by AirPlay so that your video and audio streams are protected from unauthorized access.
Besides these, many third-party apps come integrated with AirPlay. So, you do not have to think twice before streaming content from applications like YouTube, Netflix, etc.
Also, new features are announced for AirPlay during the WWDC for iOS 17. The abilities include hotel room support for AirPlay and on-device intelligence. On-device intelligence means AirPlay will be able to learn when and how you listen to content. Users can also ask Siri to begin an AirPlay session. As for hotel support, it means you can enjoy your favorite content on TV even when you are traveling because it will work with supported TVs in hotels. This capability will be available with IHG Hotels & Resorts and will expand to other brands by the end of this year.
What are the Benefits of AirPlay?
AirPlay makes it easier to stream and share media from one device to another, including a projector, TV, or speaker.
Content can be streamed without lag if the ethernet connection, Wi-Fi or Bluetooth remains strong. Once you have connected the devices, they will automatically connect the next time you want to use them together.
There's no hassle in setting up AirPlay because all new Apple devices support this feature. So you don't have to configure anything. You can simply tap or click to begin streaming or screen mirroring via AirPlay.
The feature lets you stream content on multiple devices simultaneously.
Are there any Drawbacks?
Yes, there are some limitations to this feature. For instance, you can use the feature on one application at a time. You cannot simultaneously stream a Netflix show and a YouTube video to your Apple TV and Bluetooth speaker. You can do any one of those.
Also, the abilities of AirPlay are affected by Wi-Fi and Bluetooth problems. If these connections are constantly dropping or are unstable, you have to troubleshoot them to enjoy a seamless streaming or mirroring experience.